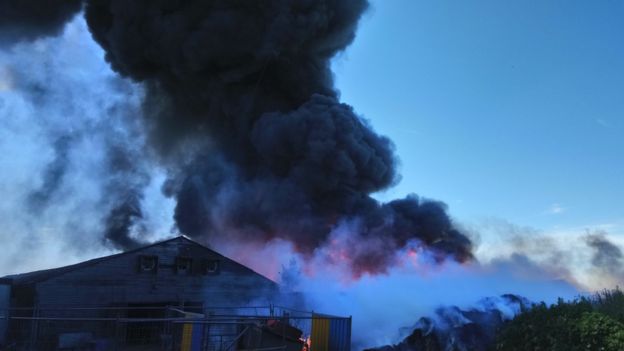 Sutton Coldfield Farm fire credit: https://www.bbc.co.uk/news/uk-england-birmingham-44601921
Most of us will have heard by now of the terrible damage to crops, livestock and property that has occurred due to this season's dry weather. Here are the best preventative measures you can take to stop fires and ensure you limit any fire damage as much as you can.
Glass bottles/reflective debris in strong sunlight can heat and catch dry crops. Be careful to pick up anything you see that might pose a threat and dispose of it. (Plus it will keep your fields looking pretty). Another risk is obviously cigarettes, carefully instruct your staff where they can safely smoke, and ensure they dispose of cigarette ends appropriately.
Hay & straw are most often the ignition point for arsonists. The readily available fuel makes it quick and easy for wrong doers to start a fire.
Regular contact with other local farmers and crime prevention can keep you updated on potential arsonist activity. Local crime prevention can also assess your site and identify areas that are vulnerable to arson. There's a quick survey here that you can use to assess your property now.
Fire extinguishers of the relevant specifications should be fitted to every one of your vehicles during harvest, so you have them wherever you might need them. Also a full bowser of water should be nearby wherever you are.
Remove chaff from machinery, to reduce the risk of it catching whilst you're combining.
What to do in case of a fire.
Get to a safe place
Fire spreads FAST. Get as far away as you can, with natural barriers in between
Call 999 with your location
Resources:
www.cheshirefire.gov.uk/business-safety-advice-for-businesses/farm-fire-safety
https://www.nfuonline.com/news/latest-news/advice-on-wild-fire-risks/